Come Funziona la Tecnologia Vacuum Assistita
Il vuoto avvicina delicatamente la pelle verso il manipolo, la pelle viene distesa e il bersaglio è più prossimo alla fonte di energia.
L'energia viene erogata ad un'area nella quale i melanociti sono distanziati e il flusso sanguigno è limitato.
Il bersaglio viene colpito e la pelle viene rilasciata.

Vantaggi della Tecnologia Vacuum Assistita ad Alta Velocità
Maggiore efficacia: La riduzione del numero di cromofori in competizione permette di somministrare con più efficacia l'energia del laser.
Maggiore sicurezza: l'epidermide assorbe meno energia ed è necessaria una fluenza inferiore perché il bersaglio è più vicino alla fonte d'energia.
Minore dolore: l'esclusivo meccanismo di aspirazione attiva i recettori tattili e di pressione della pelle per inibire la trasmissione della sensazione di dolore.
Come Funziona la Tecnologia ChillTip™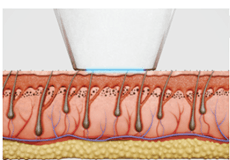 La pelle viene raffreddata prima e durante il trattamento.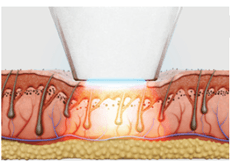 Si applica una pressione sulla pelle. Il fascio laser viene applicato sulla pelle e il bersaglio viene colpito
Vantaggi della Tecnologia ChillTip™
Maggiore sicurezza: maggiore protezione dell'epidermide grazie al raffreddamento per contatto di ChillTip.
Maggiore comfort**: grazie al raffreddamento continuo della pelle, dolore e fastidio vengono ridotti notevolmente.
Maggiore efficacia: la compressione della pelle ruota il follicolo avvicinandolo alla superficie, occlude i vasi sanguigni e riduce il numero di cromofori in competizione. La fluenza elevata permette di trattare aree che richiedono un'elevata precisione, peli sottili e chiari.
*Ibrahimi OA, Kilmer SL. Long-term clinical evaluation of a 800-nm long-pulsed diode laser with a large spot size and vacuum-assisted suction for hair removal. Dermatol Surg. 2012
**Xia Y, Moore R, Cho S, Ross EV. Evaluation of the vacuum-assisted handpiece compared with the sapphire-cooled handpiece of the 800-nm diode laser system for the use of hair removal and reduction. J Cosmet Laser Ther. 2010; 12: 264-268.